Mold Results & News Archive:
News:
2016 Swim Wales Summer National Championships:
Mold members had a hugely impressive Welsh Summer Nationals in Swansea, resulting in 4 of our Nofio Clwyd swimmers becoming National champions! Gracie Anwyl, Erin Roberts and Kristian Ellis won 1 event each in 100 Breastroke, 200 Freestyle and 200 Butterfly respectively, while Laura Sharp won a massive 6 events; there were several other impressive swims and medal performances to add to the champions' haul. Ged Jones also entered as a club swimmer, and performed well scoring several LC PB's, which sets him up well for the new season.
Pictured - Kristian collecting his 200m Butterfly Gold Medal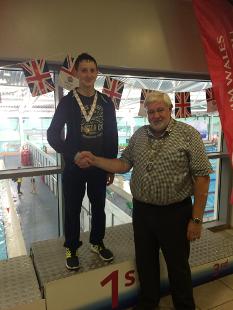 2016 Wirral Metro Summer Open Meet:
Ten Gold medals for Mold at Wirral Metro
More medals for Mold Swimming Club as 18 swimmers represented the club at the recent Wirral Metro Meet in Birkenhead. Aged between 9 and 15 and with many attending a swim meet for the first time, the swimmers were on top form and brought home a massive 10 golds, 9 silvers and 11 bronze between them.
Aaron Devin(9) and Jamie Morris (10) put in great performances with Devin taking gold in the 50 back and bronze in the 50 free with Morris taking bronze in the 50 back . Kristian Ellis (14) and Alexander Davies (12) were fantastic and took 3 gold, 4 silver and 3 bronze with a gold in the 200 IM for Ellis with Davies taking gold in the 100 back and 50 fly. Not to be outdone, Abbie Holl and Charlotte Davies took 6 golds, 3 silvers and 4 bronze with Holl securing golds in the 50, 100 and 200 free and Davies taking gold in the 400 free, 50 breast and 100 fly. Cerys Humphreys (10) also brought home two silvers in the 50 free and 50 fly with bronze medals for Holly Kay (11) and Megan Ruck (9) in the 200 IM.
Izzy Bramham (13) took a huge 12.15 seconds off her 50 free time with Ffion Griffiths(9) and Lauren Boon (10) coming 4th in 50 fly in their age groups. Billy Hardy (12) and Elin Davies (11) came fifth in their 50 breast events with Megan Baker- Jones (12) taking 5th in 50 back and Owen Fenton (15) taking 5th in 50 free. A great time from Iwan Grant (15) in 50 breast placed him 7th overall.
2016 Conwy Whitsun Meet:
Mold on top form at Whitsun Meet -
22 swimmers represented Mold Swimmimg Club at the recent Whitsun Meet in Llandudno. Their hard work in training paid off and many fantastic times were achieved with a number of swimmers placing fourth and fifth in some of their events. Many of the swimmers were competing for the first time at this meet and many personal bests were achieved. Lara Morris knocked a huge 12.70 seconds off her 100 breast time with Ged Jones taking 9.41 off his 200 backstroke time. Sisters Carys Watchorn and Lauren Watchorn, Laura Sharp, Orla Davies and Gracie Anwyl brought home a fantastic haul of medals with 16 golds, 4 silvers and 2 bronze across all strokes. Not to be outdone, Alex Davies, Kristian Ellis and Will Fisher gained 2 golds, 2 silvers and 3 bronze medals between them. Sharp went onto receive the top girl award which was well deserved. A club spokesperson said, "There were many promising performances and great times, the whole team should be very proud of themselves."
"Team Mold" swimmers at the 2016 Whitsun Meet:

2016 Swim Wales North Junior Development Meet:
Eleven members of Mold Swimming Club competed at the recent Junior Development Meet in Llandudno. Aged between 9 and 12, the swimmers competed in five events and brought home an impressive three golds, three silvers, four bronze medals and two trophies. Siôn Connah(10) and Ged Jones (12) took bronze in the 200 free in their age groups with Jones also securing gold in the 100 breast and bronze in the 100 fly and 200 free. Polly Nevin (11) and Holly Kay (11) also gave excellent performances with Nevin gaining gold in the 200 free and 100 back and silver in the 200 IM and Kay taking silver in the 100 fly and 200 free and bronze in the 100 back. Kay and Nevin joined Kasia Bebb and Cerys Humphreys to take bronze in the 12 and under 200 IM relay. Elin Davies(11) and Catrin Williams (10) achieved fantastic personal best times with Davies taking 10 seconds off her 200 free time and Williams taking 9 seconds off the 50fly. Jones and Nevin also went on to take second places in the Boys 12 year old and Girls 11 Year Old Pentathlon Awards. A spokesperson for the club said, "The swimmers are a credit to our club. We are very proud of all of their achievements which are the result of their hard work and commitment and the dedication of their coaches."
2016 Swim Wales Long Course Championships:
Mold Swimming Club sent a team of four to represent the club at the Swim Wales Long Course Championships in Swansea. They entered 14 events between them and all gave excellent performances with many PBs. Charlotte Davies and Ged Jones swam for the first time in this event and competed in the U12s. Davies achieved several personal best times including impressive 2nd and 3rd places in the 100 fly and 200 free out of the 11 year old girls. Jones achieved 9th place in the 50 breast. Ethan Williams and Alex Davies swam in the U14s. Williams achieved great PBs and times and took 5th and 8th place in the finals of the 50 breast and 200 breast. Davies took 3rdplace out of the 13 year olds in the 100fly with a great PB.
They were supported by their Mold team mates who also swim for Nofio Clwyd and who also had many successful swims and fantastic achievements.
Their results show great promise for the future and their successes are testament to their commitment, hard work and the dedication of their coaches Howard Berry, Pete Ellis, Claire Davies and Dave Williams.