2015 North Wales Sub Regional Championships:
Mold Swimming Club sent 20 swimmers to the North Wales Sub Regionals in Llandudno. The club achieved a fantastic haul of medals, all swimmers achieved pbs with many competing for the first time or for the first time in a particular event.
Ten year old Holly Kay gained her first bronze medal in the 200 backstroke with her teammates Carys Humphreys and Elin Davies achieving excellent times. The boys gave brilliant performances in the 13 year old category with Kristian Ellis achieving 5 golds, 1 silver and 1 bronze in free, fly and IM events and Zach Speakman taking 3 golds in breaststroke, backstroke and freestyle. 11 year old girls Ffion Jones and Kasia Bebb achieved fantastic times in their events with their teammates Elan Roberts, Holly Clarke and Gracie Anwyl taking gold, silver and bronze in the 400IM. Roberts and Clarke went on to gain 3 golds, 5 silvers and 3 bronze and knocked around 25 seconds off their 800 free times. 12 year old Lara Morris, Erin Turton, Orla Davies Angharad Smith all achieved brilliant times with Davies gaining 2 golds and a bronze in the back and breaststroke events and Smith achieving 4th place in the 400IM.
Erin Roberts, Medi Skelding, Alys Hyndman and Abigail Collins swimming in the 13 year old category were very successful. All achieved great pbs with Roberts, and Hyndman gaining gold in the 200fly and 50 free, and Skelding gaining gold and silver in the 800 free and 400IM. Molly James and Adam Cartwright were outstanding in the 15 year old and 16 year old categories with James gaining 2 silvers and a bronze in the freestyle and breaststroke events while Cartwright took bronze in the 200 fly.
The whole team should be very proud of their performances at the Sub Regionals. These results demonstrate the exceptional commitment that all swimmers give to the club and the dedication of their coaches Howard Berry, Andy Roberts, Pete Ellis (and Aled Davies from Nofio Clwyd); huge thanks also to team managers Adele Topliss and Sue Roberts.
Pictured below are some of the brilliant "Team Mold" swimmers at the 2015 Sub Regionals - well done everyone!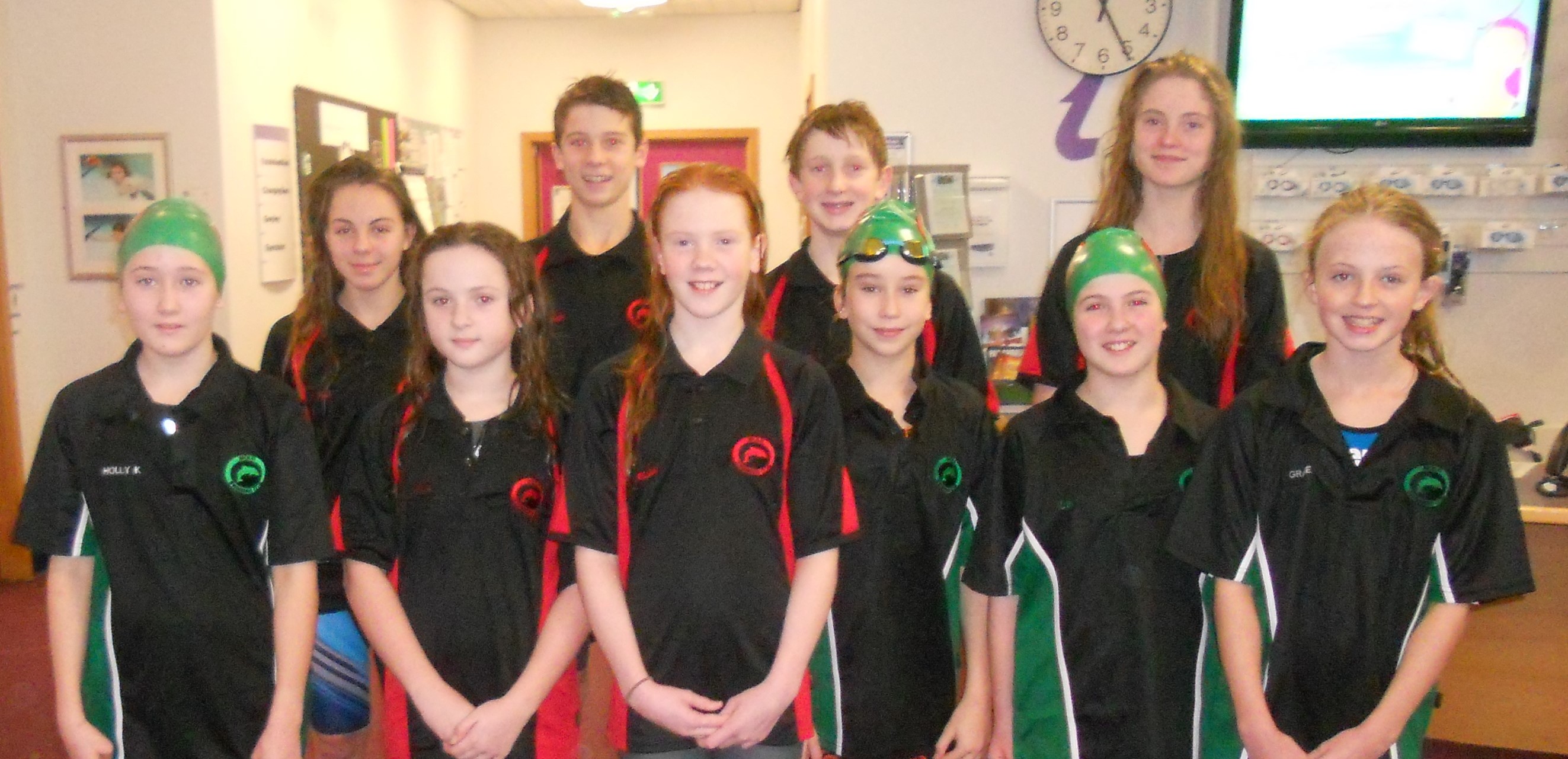 2015 Mold SC Club Championships:
Mold Swimming Club held its annual club championships over 2 weekends in November, and it did not disappoint as club members with a wide range of ages and abilities came together to have a gala that was not only fun, but also competitive. Athletes, coaches and parents witnessed some excellent performances with some extremely competitive times, setting a high standard at the start of another exciting swimming season. To see the full results for the club champs please click here.
2015 Swim Wales Summer Open Meet (LC):
Mold swimmers had a superb Welsh Summer Nationals at the end of July, which included many PB's and final appearances, plus Gold, Silver and Bronze medals! A report will appear here soon, in the mean time please find below the results for Mold registered members (entered as Mold SC & entered as Nofio Clwyd):
Results for swimmers entered as Mold - click here
Results for swimmers entered as Nofio Clwyd - click here
2015 Conwy Aquatics Whitsun Meet:
Team Mold continued a fine run of form with a superb performance in the 2015 Whitsun Meet. 13 swimmers attended the gala in Llandudno, achieving an amazing 73 PBs on the way to 46 medals, to land 2nd place in the Girls points table and 3rd overall. The icing on the cake was 2 top girls awards: for Elan Roberts in the girls 9/10 age group following an incredible 9 golds and 6 silvers, and Erin Roberts topping the girls 11/12 age group with a superb performance, winning 7 golds and 3 silvers.
Other medal winners in the girls team were Orla Davies with a gold (200 fly), 2 silvers and a bronze, Alice Hyndman with 2 silvers (400IM/free) and a bronze, Lauren Thomas a gold (400 free), 2 silvers & 2 bronzes, and Nicola Topliss a bronze for 200IM. They were joined by Hollie Clark, Polly Nevin, Ffion & Maddy Rees and Angharad Smith who all managed a number of PBs each.
There were only 2 boys from Mold attending, but they weren't outdone by the girls - Kristian Ellis winning a gold (400IM) and 4 bronzes, and Matthew Turner getting 3 bronze medals.
To see more details & results from the Whitsun meet, please click the following links:
2015 Swim Wales North Junior Development Meet:
Despite only 3 Mold swimmers entering the junior development meet, their attendance was rewarded with some excellent results, proving that local development meets are the ideal events for those swimmers wanting to gain gala experience and confidence. Polly Nevin set some encouraging times in the girls 10yrs age group on her way to scoring 29 points, while Angharad Smith scored 68 points in the girls 12 yrs events, including a bronze in the 100m breaststroke. Katy Rushforth was the star of the girls 9yrs age group, winning the section overall with a score of 96 points, having won an incredible 4 golds and a bronze on the way in her 5 events. All in all a fantastic day for the team in Llandudno, and a big thanks goes to Adele for doing a brilliant job in her dual team manager/"coach for the day" role.
Please click here for the full results, and here to see the top boy/girl points table.
2015 Swim Wales Long Course Closed Championships - part 2:
Mold swimmers attended the final 2 days of competition after a 2 week postponement , and they rose to the occasion superbly. Among the highlights were the 400m freestyle where Erin won silver in the girls 13yrs event and Orla grabbed bronze in the 12yrs section, while Kristian had a last length dash to capture bronze in the boys 13yrs competition. The 400m IM was another good event for Mold, with Laura brilliantly winning gold in the 13yrs age group, Elan securing silver in the 12yrs girls race, and Zach getting bronze in the boys 13yrs version. Issy did another great job in the breaststroke, securing double silver in the 50m and 100m events for 15yrs girls.
To see the final medal table for Mold individual swims please click here.
2015 Swim Wales Long Course Closed Championships:
Mold swimmers had an incredible performance at the 2015 LC Closed Championships (the "Easters"), despite the gala being dramatically cut short due when a broken light sent glass into the 50m pool in Swansea, forcing a postponement of the final 2 days of events. As a result the gala will resume on 18th April for the remaining competition. It was a real shame the gala was disrupted as Mold swimmers were scorching to finals and medals galore, in fact 15 swimmers made at least one final and 12 swimmers won a total of 16 individual medals between them, which is an incredible return! To add to the individual success Mold girls won 2 further medals in the relays while representing Nofio Clwyd.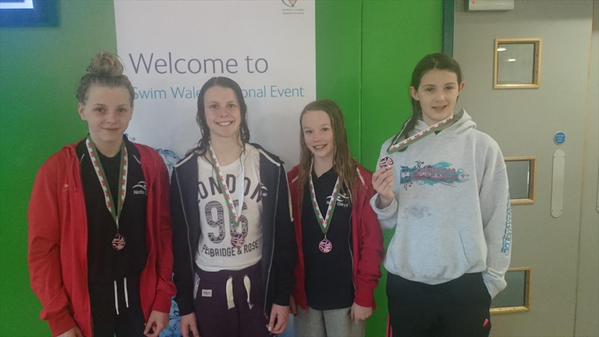 Amongst the individual highlights were a white wash in the Girls 13yrs 800m Freestyle for Laura (Gold), Erin (Silver) and Alice (Bronze) in a dominant race for our girls, further Mold success in this event came with Hollie winning the Girls11yrs Gold and Orla runner up in the Girls 12 yrs section. The 800 wasn't the only event where Mold placed highly, the 200 fly also returned several medals - Kristian won silver in the Boys 13yrs final with Zach also grabbing bronze in the same event; Niamh was narrowly edged into silver in an exciting Girls 15yrs race, while Lauren Cook beat several team mates to win bronze in the girls 13yrs event;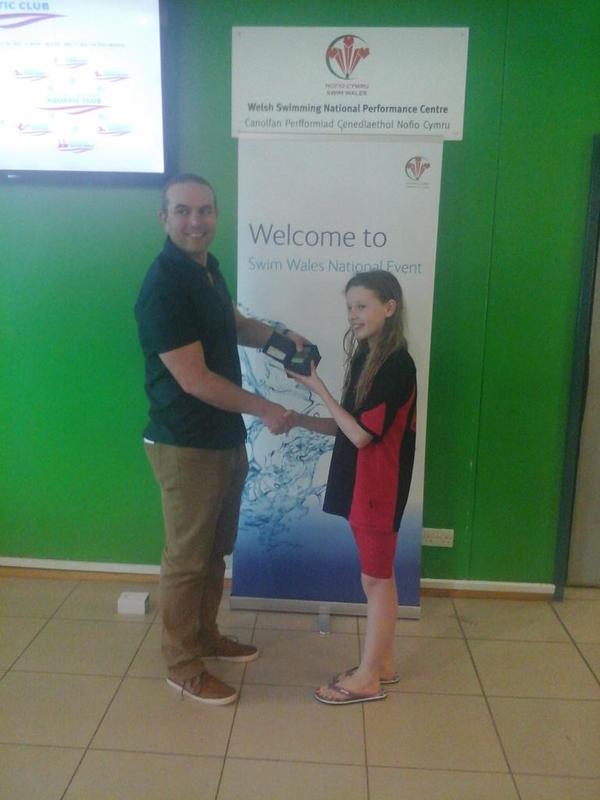 finally Orla scored a tremendous win in the girls 12yrs 200 fly with a massive PB and overhauling the early leader in the 2nd 100 of the final. The 400IM was another good event for our swimmers with Niamh and Isabelle winning Gold and Silver in the Girls 15yrs event and Ethan winning bronze in the Boys 15yrs race. Not to be outdone, Elan Roberts raced to Silver in the Girls 11yrs 200 Freestyle.
Finally, special mention to Ethan Gregson who followed up his 400IM by cracking the minute mark to record a 59.66 in the 100m Freestyle for the first time, and surely had the biggest smile ever seen poolside at Swansea!
To see the 2015 SW LC Closed Champs results round up please click here (via the results tab); also please click here to view the Mold individual medal winners table for the first 2 days of competition.
2015 Swim Wales North Regional Championships:
Mold had another stellar performance at the 2015 Regionals, with many fabulous performances. The team scored an amazing 635 points, finishing second overall in the standings (and having the best points per swim ratio). To see the 2015 SWN Regionals results round up please click here; also please click here to view the Mold individual medal winners table.
Mold girls rule the 800m Rankings:
Mold swimmers Laura Sharp, Alice Hyndman and Erin Roberts hold the top 3 ranking positions in Wales for the Girls 13yrs 800m Freestyle event, following the Swim Wales North Regional Championships - which is a wonderful achievement for our swimmers and our club! Its not the end of the story as Medi Skelding also holds a place in the top 10, meaning Mold swimmers occupy 40% of the top 10 rankings in Wales. Superb effort girls - well done!

The girls are not on their own however, many Mold swimmers hold high ranking positions in Wales in various events ranging from 50m Freestyle to 200m Butterfly, and we also have some swimmers ranking highly overall in Great Britain too! To check out the Welsh and British rankings please visit the British Swimming website by clicking here.